Cellmark's home DNA testing service DNA at Home has launched a new website. This makes it even easier to access Cellmark's 'Next Day DNA' paternity test service - it is simple to use, mobile friendly and has a blog section providing helpful information.
DNA at Home is for people who want the convenience of taking their own DNA samples. You then simply return your DNA swabs to Cellmark's accredited UK laboratory for next day testing.  It is a convenient, confidential and conclusive 'curiosity' service from the UK's most experienced DNA testing company.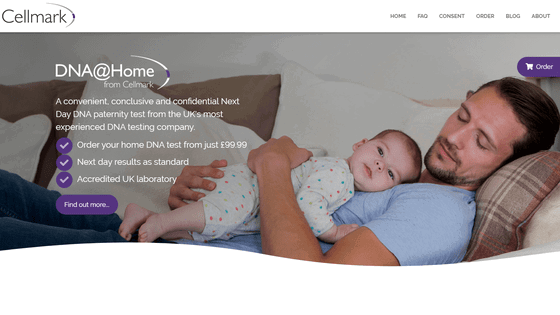 DNA test kits are easy to order on the new DNA at Home website and can be paid by card or PayPal.  PayPal Credit provides the added convenience that customers can, if approved, spread their payment.
David Hartshorne, Managing Director, at Cellmark commented "Our new site is designed for customers that require a home DNA test to confirm paternity, maternity, siblingship as well as other types of relationship.  DNA at Home is a 'curiosity' service for people who want a cost effective, high quality test for reassurance and resolution".
For a court approved, legal DNA test that will be accepted by the courts, and government authorities and agencies including the Home Office and the Child Support Agency, customers should visit www.cellmark.co.uk.
Whichever service you choose, DNA at Home or Cellmark's Legal DNA, you can be certain of rapid, reliable, ISO 17025 accredited testing at our UK laboratories.  All testing requires consent and is carried out twice using an advanced 24 DNA marker system for complete peace of mind.